Cutting-edge AI technology
For chat, email & voice. Find out what Deepdesk means for your contact center agents and how it helps your organization to continuously delight customers.
Used by thousands of agents from industry leading organizations
Introducing Deepdesk AIx
A true omnichannel AI solution
Designed to empower agents and delight customers, Deepdesk AIx addresses common customer service challenges like conversation summaries and information scattered all over your systems using the power of Generative AI. 
Our GenAI makes real-time suggestions and offers next-best action options during live customer interactions so your agents can find the right solutions quickly. Across all channels. Email. Chat. Voice. By analysing data and sentiment, we provide the ever-so-needed pre-emptive experience so you can continuously understand customer interactions better.
Autocomplete the boring stuff.
When you're ready, summarize!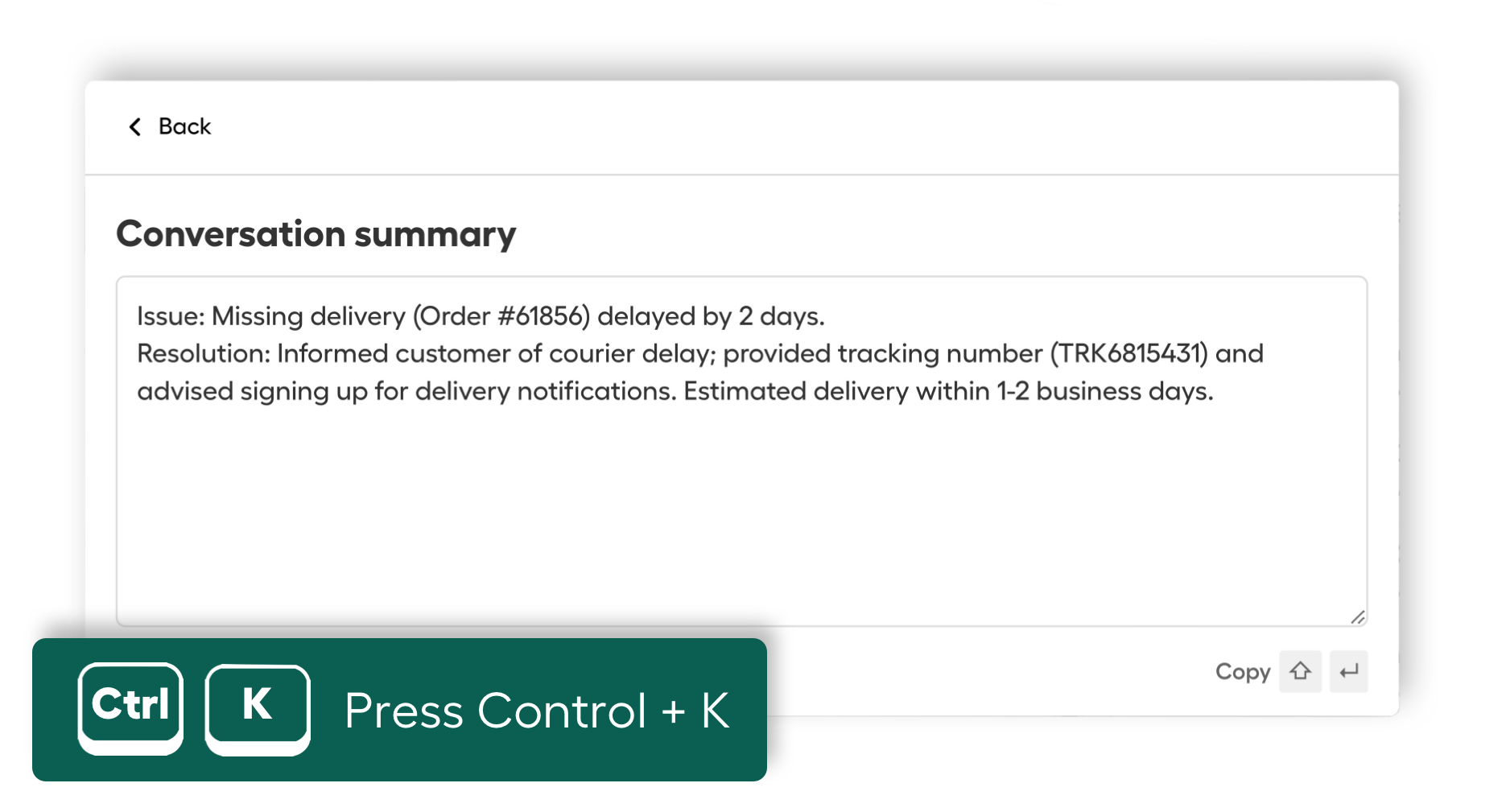 Deepdesk makes agent life much easier.
It frees them from boring and repetitive tasks. And it increases agent confidence by providing them with magically relevant suggestions, enabling them to steer conversations into a fulfilling direction.
Agents love to work with Deepdesk.
Learn how VodafoneZiggo increased agent happiness.

Automatically capture important details.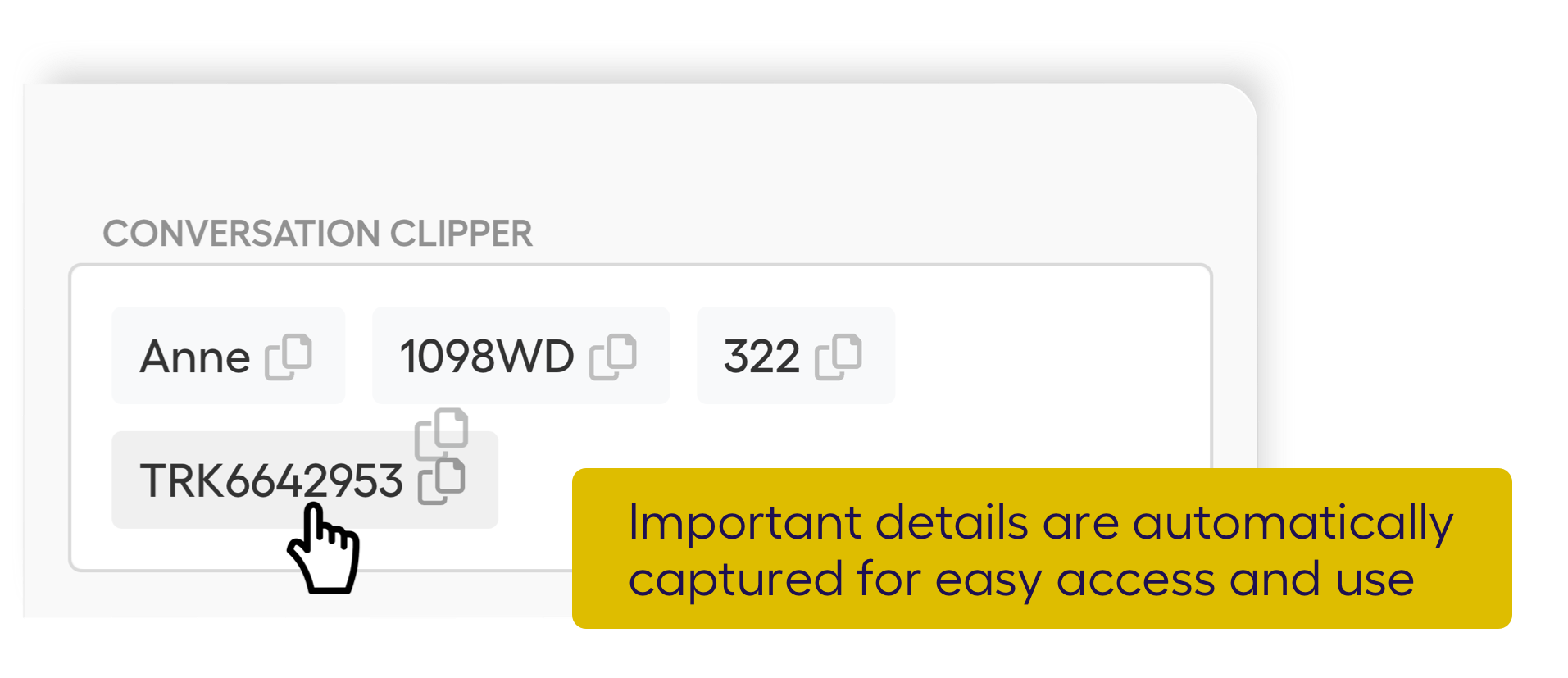 Deepdesk improves conversations for your company.
A dissatisfying customer support interaction is a killer for your company.
Our AI customer support technology empowers agents to get the best out of any conversation.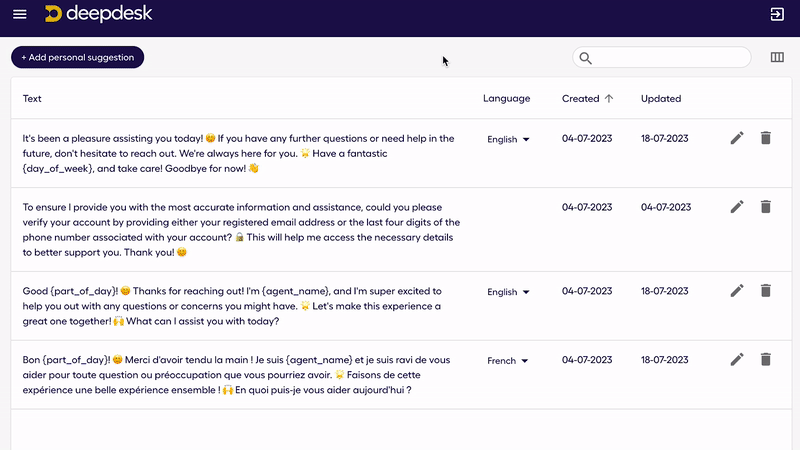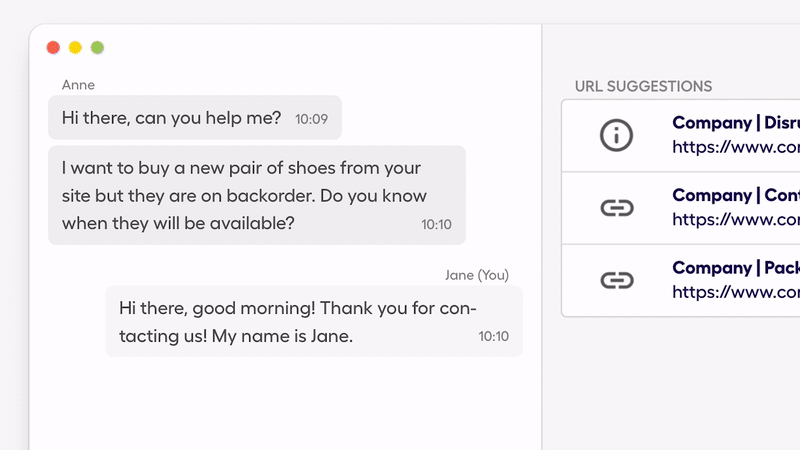 Autocomplete the boring stuff.
Our AI technology unburdens agents by recognizing and autocompleting repetitive procedures and conversations. That prevents burnt out agents and it's a significant time saver.
Be in the know. Always.
Being well-informed makes agents feel confident.
Our AI technology provides suggestions for helpful content, magically relevant to the conversation.
Constant job improvement.
The longer your agents are using Deepdesk's Agent Assist AI technology, the more it learns from their conversations, the better the suggestions become. Deepdesk recognizes customer sentiment and helps agents to steer them in a satisfactory direction.
Intel right where agents need it.
All our AI suggestions are delivered right where the agent needs it: directly in their chat window and within your Customer Support Platform. No need to open new tabs or check other apps.
Make it personal.
Our AI technology recognizes the agent's personal tone and replicates that while autocompleting. The customer wouldn't be able to tell the difference.
Fullfilling conversations
With Deepdesk, your agents feels confident to handle any customer issue in a satisfactory way. That feels good: both for your agents and for your customers.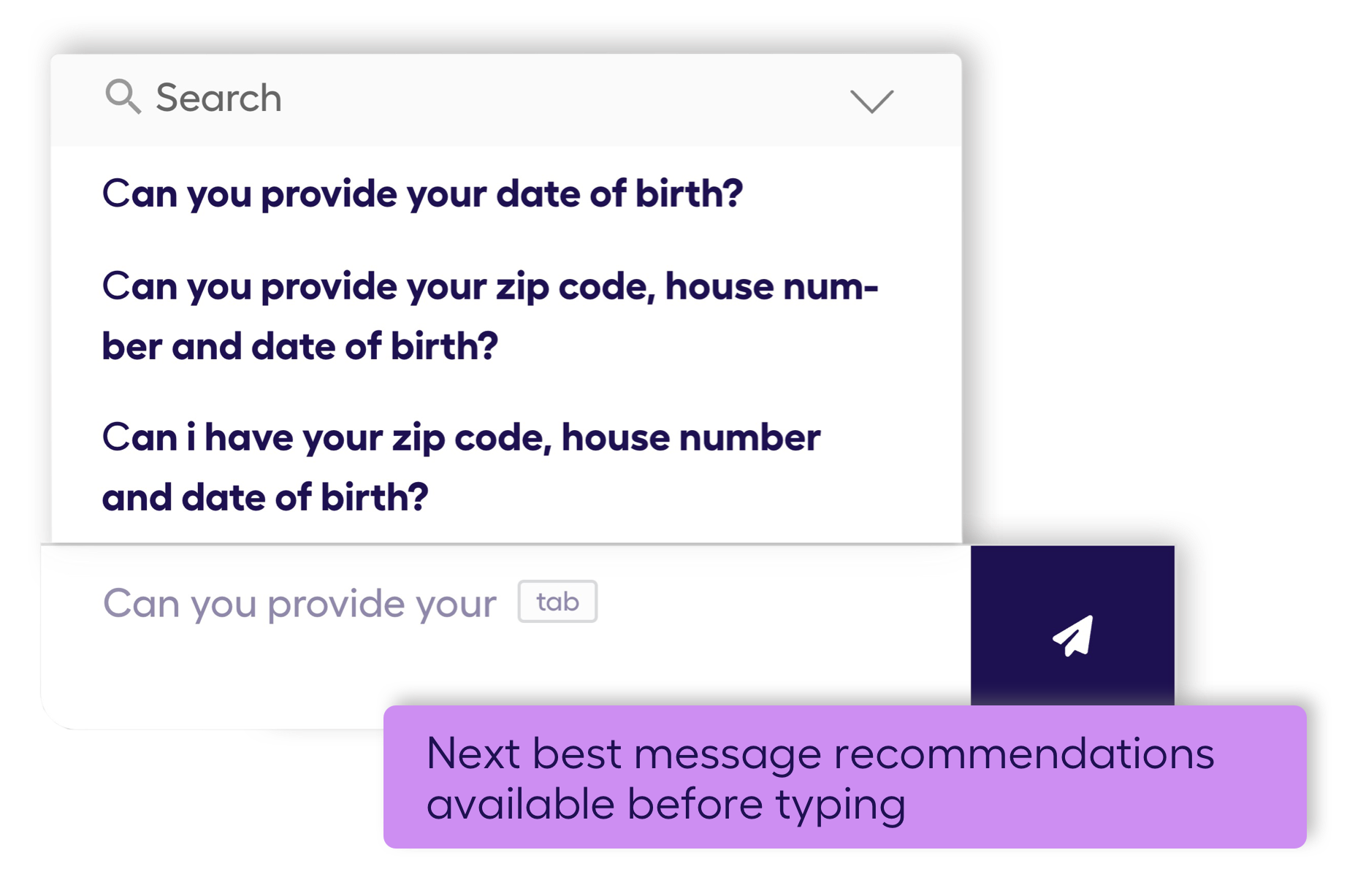 Manage your agent's conversations.
You are in charge of what content and/or helpful procedures are suggested to your agents. This helps you to steer conversations, without robbing your agents of their freedom.
Get deep insights into your customer support.
Deepdesk tracks everything. From characters typed to most shared suggestions or most used content. Let us know which KPI's are important to your organization and we will configure your dashboard accordingly.
Security and compliance? Check.
Be sure to know that we're not using a cloud-AI solutions like Google AI. We've built our neural network entirely by ourselves. And we're not sharing (aggregated) data of our users with other users. Every Deepdesk instance is rolled out freshly for every new client.
Deepdesk works with any CS platform.
Whether you're using RingCentral, Salesforce, or Zendesk, or any other CS or CRM tool, our API seamlessly connects the Deepdesk technology to your customer support platform.
Deepdesk integrates with industry leading solutions including:
Genesys (WDE and Cloud)

NICE

RingCentral

Zendesk

Anywhere 365

Pega

Tracebuzz

Coosto

LivePerson

Clarabridge
Increase customer satisfaction, without the cost
By implementing Deepdesk, agents stay longer with your company,
new agents are brought up to speed much faster, customer waiting time
is diminished, and customer satisfaction soars.
Find the best package for your agents. 
Deepdesk standard features
Autocomplete
Autocomplete works just like the most common web based search engines: as your agent begins to type, Deepdesk offers the best content options, based on historical data, to complete their response.
Next Best Message
The Next Best Message feature provides the best possible messages to send to a customer based on their input. The next best message is continuously available in real-time during all conversations, and will be suggested even before you start typing.
Link Suggest
Link suggestions provide the best possible solution link to provide to a customer based on their input. Link suggestions are continuously available in real-time during all conversations.
Agent Personalization
We enable agents to maintain their own tone by providing unique, personalized AI suggestions specific to an agent's personal writing style since not every agent communicates the same way.
Personal Collection
Personal Collection enables agents to create and add their own frequently used content, allowing for quick access and recommendations in one, integrated view. No more cutting and pasting from other documents.
Pinned Messages
Pinned Messages are available for agents to use immediately in a conversation at any time. This is convenient for when your agents are repeatedly asked the same question due to events like outages, price changes, Black Friday, or any other occurrence.
Style Suggestions
Using Style Suggestions, content managers can define specific tones of voice and written brand standards based on language usage (ex: a company prefers to use "Hi" versus "Hello"). Agents can continually learn and improve, while ensuring your brand guidelines and tone of voice are being followed.
Agent Tutorial
This interactive tutorial walks agents through the key features and functionality of Deepdesk, using your existing answers and recommendations, so agents can immediately start to understand how Deepdesk will help them.
Search
Agents always have access to every answer in Deepdesk using integrated Search. All the content in Deepdesk is instantly available ensuring an agent always has the perfect answer.
Recommendation Studio
The Recommendation Studio allows you, your quality managers, or (senior) agents to moderate and fine tune the content Deepdesk automatically collects to meet your compliance requirements and brand's tone of voice. This is important in regulated industries, where the answers provided by an agent must be precise.
Analytics & Metrics engine
The Analytics and Metrics engine helps leaders, their teams, and their agents understand usage, with the goal of improving conversations. This enables content moderators and quality managers to continually understand what content is being used and to improve it on an ongoing basis.
Multi model support
Allowing an enterprise organization to use multiple machine learning models at the same time in the same environment enables them to use specifically trained AI models for specific brands, channels, divisions, or customer segments, resulting in better suggestions for your agents.
Conversation clipper
When a customer provides an important piece of information like a zip code, telephone number, address, or other relevant data, Deepdesk makes it available in a "clipboard" within the agent window, allowing them to quickly access it as needed.

Deepdesk enterprise features
Agent Assist for Voice
Deepdesk's Voice feature uses the real time transcription of any voice call to provide the agent with the information they need in real-time to ensure a successful call resolution. This includes providing agents information to customer inquiries using Knowledge Assist, providing real-time cues using Agent Notifications, and automatically summarizing the content of the call using Summarizer. 

Knowledge Assist
Using Knowledge Assist, Deepdesk is able to take the knowledge that exists in different FAQ's, knowledge bases, help articles (including PDFs), internal information systems (like Sharepoint) and more, and use it to provide real time answers to an agent's questions. Using a simple prompt, or by automatically identifying the context of a conversation, Knowledge Assist uses the information from these multiple sources to create a concise answer that the agent can provide to the customer.

Deepdesk for Email
A customer asked us if we could do the same thing for email that we do for digital chat. And now we can. Just like our digital chat solution, as your agent begins to type, Deepdesk offers the best content options, based on historical data, and your own brand preferences, to compose an email.
Agent notifications
Agent Notifications are real-time cues delivered to an agent based on the specific rules that have been defined by a company or an agent. Rules can be created that apply to assess whether a conversation is positive or negative, if there is an opportunity for an upsell, to coach an agent on how to handle a particular situation, and more. When the parameters of a rule have been met, a cue is delivered to the agent with helpful information to guide them during their interaction.

Summarizer
Summarizer allows agents to automatically create summaries of their digital or voice chats at the push of a button, or in the case of a Voice call, automatically when the call is ended. Utilizing Generative AI models, an entire conversation is summarized into a format that an agent can then use to add as a "note" into the record of that customer.
Enterprise Search
Enterprise Search extends search with your additional connected data sources like FAQs, knowledge bases, community pages, and more. Agents have instant access to all your internal content which helps give fast, accurate, and complete answers to customers, improving efficiency, customer satisfaction, and AHT.
Live translation
Live translation allows both the agent and customer to easily communicate in their preferred language by translating conversations in real-time. This allows both the agent and customer to easily communicate in their preferred language.
Assisted Intake
Assisted Intake enables agents using digital channels to automate the intake of a customer based on their initial questions and suggest links that can help the customer resolve the issue themselves. Unlike chatbots, the Assisted Intake is automatically kept up to date, requiring no recurring training.
Reply Generation (Generative AI)
Reply Generation is powered by the latest generative AI capabilities that are built directly into Deepdesk. The algorithm is trained with our proprietary large language model in combination with fine-tuning your data to further increase the rate of automation we can offer, resulting in higher productivity for agents.
Anonymizer for PII
To meet compliance and privacy needs, we offer an extensive PII filter to anonymize the customer conversation data used to train our AI. We employ state-of-the-art transformer based NER's (entity recognition) such as Flair, as well as rule based filtering (regex).
Enterprise authentication (SSO)
No passwords, no hassle. Single Sign-on enables agents to easily and securely access Deepdesk and leverages the access management tools you already have in place. It enables your agents to securely access Deepdesk with a single sign-in prompt without compromising security.
Enterprise reporting (Insights API)
The Insights API enables you to combine Deepdesk's insights with your other agent and contact center metrics. This allows you to retrieve usage statistics and insights through real-time interactive dashboards, as well as our API, to ingest into your data warehouse for internal reporting.
Chatbot integration / custom & rich messages
We allow for real-time integration with your current conversational platform and enable exchanges between Deepdesk and your chatbot. Additionally, with Custom Messages we connect to any system of choice to provide real-time suggestions presented to an employee from external applications or systems.
Autoflows
For mini-processes (like the initial verification of personal details at the beginning of a chat), we provide custom Autoflows. A mini-chatbot will start, ask questions to the customer, and respond accordingly based on their answer. Agents can view the exchange in real-time and take over the conversation at any time.
RPA, CRM & KB Integrations
Building on the interfaces we have developed with the leading CX platforms, like Genesys, Salesforce, Liveperson, Clarabridge, and RingCentral, we allow for additional RPA, CRM, and KB integrations allowing for custom actions and workflows.
Deepdesk automations
Using Deepdesk Automations powered by GenAI, real-time suggestions and cues can be delivered in real-time to an agent based on their current conversation. These specific actions and rules can be easily created by contact center managers in simple, human language within the Deepdesk environment. This enables any contact center to leverage the power of LLM's at scale.

Automations & API actions
Similar to Deepdesk Automations, these actions take place behind the scenes, without needing to be created by a contact center manager. Based on the conversation, an automation is triggered that calls to external API's and performs the defined action. Things like automatically routing a conversation, retrieving order information based on an identifier, and more all take place without any action needed from the agent.

Bring Your Own Model (BYOM)
With new LLM models being made available every day, and companies having a preference for which to use, or even developing their own, Deepdesk has created a platform that enables you to use any model you want, including our own. This allows a completely flexible approach for our customers, allowing them to use the model(s) that best fit their needs and business requirements.

What our clients say
"Deepdesk has analysed over two million chats and e-mails and found logic in all questions and answers. Deepdesk now supports our employees to help our customers faster."
George de Visser
Director Customer Care ziggo
"Part of our agent population would be extremely unhappy if Deepdesk was no longer available to them. Without Deepdesk, many agents would not be able to successfully handle the same number of chats that they do today."
Ahmed Ahmed
Digital Channel Quality Advisor, Vattenfall